About Katayama Guitar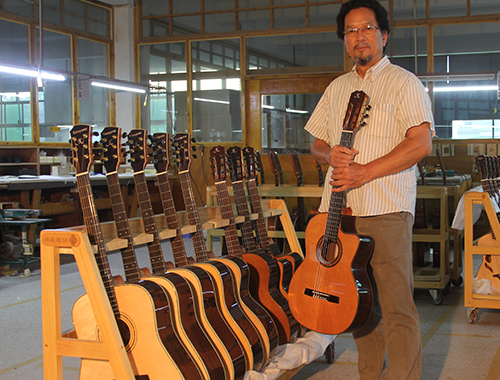 Ichiro Katayama, the CEO at MZQ, first entered an acoustic guitar company and from that time on, he became more and more passionate about guitar crafting.
Back at the time, it was the dawn of Piezo type electric acoustic guitars. After two years in manufacturing, He was assigned as a development chief. His goal was to precisely amplify acoustic guitar sound. After numerous trials, though some of them were successful in other ways, he never reached his goal to reproduce his ideal sound before he resigned his post at the company.
In 2015, the idea of SMPU suddenly popped up in his head.
He was right in the middle of developing new Acoustic Chamber guitar. After numbers of trials and errors, SMPU-mounted Katayama guitar finally found its place.
This guitar is the compilation of his years of research. Mr. Katayama is dreaming that, with further more development, this groundbreaking guitar sound system contributes to the future of electric acoustic guitar field.