Surface Mount Pick Up System
Production process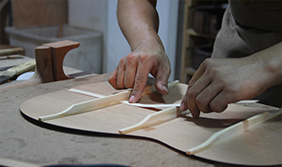 Attaching the bracings and the center lining to the back sound board, carefully checking the procedure so that there are no gaps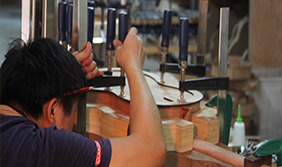 Attaching the backboard to the side plate.
More firm press bonding to finish it in the best condition both sound-wise and strength-wise is enabled by using multiple clamps while confirming there is not a slightest gap by eyes.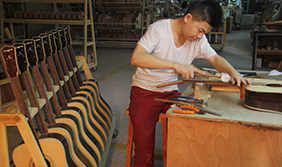 The best balance of strength and playability is achieved by checking it with gauges and hands.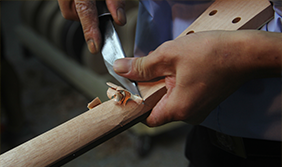 The shaping of the heal part gives it elegance.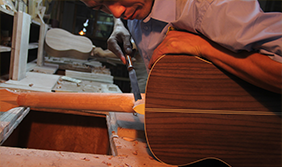 Nailing the fret wires into finger board.
It is essential to flatten the surface.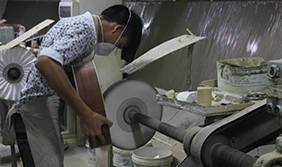 Buffing to glaze after coloring.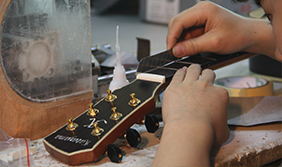 Making slots according to the width of the strings and adjusting the difference between the frets and the strings so it doesn't buzz when it is being played.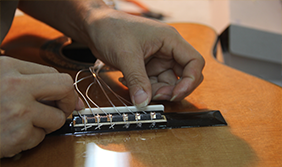 Installing SMPU system in the bridge of a classic guitar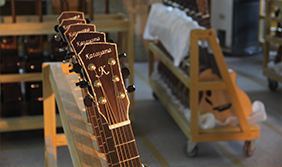 Waiting for inspection Katayama Guitar's Logo symbolizes "I+K"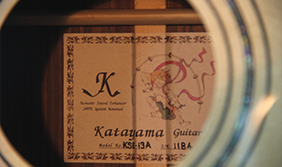 The label of Washi paper (Japanese traditional paper) with Raijin printed on it tells that it is an SMPU-mounted guitar. For non SMPU guitars, Fujin is printed.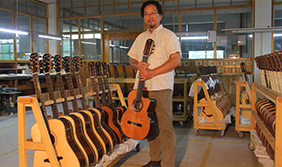 The president is holding a brand new Katayama guitar which is through the final inspection. It is not sold in Japan yet.